I didn't start with my zero-waste journey with all the know-how. In fact, the internet's overwhelming wealth of information on a zero-waste lifestyle initially sent me into a flat spin. I found the availability of tips and tricks more dizzying than helpful, and I'm sure many people can relate to the paralysis that comes with information overloading.
It wasn't until a good friend and inspiration in all things green showed me the wonderful world of zero-waste bloggers and marked my debut into a community of clued-up masters kicking waste in the butt!
Here are the best zero-waste blogs and bloggers who've helped me level up my zero-waste journey in the hopes of making your own journey, wherever it may be, fun, engaging, and productive.
1. Zero Waste Movement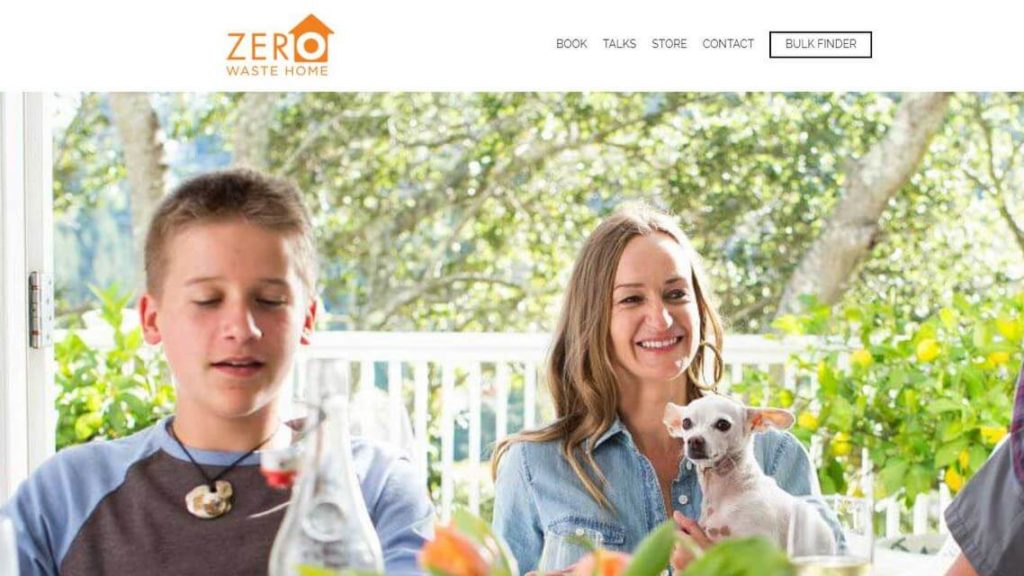 Bea Johnson is the 21st Century's zero-waste movement's origin story. The internet simply states that she is a writer and motivational speaker but Bea is nothing short of a downright zero-waste rockstar- can you tell that I'm a huge fan?!
Bea's Zero Waste Movement blog turned best-selling book kicks butt in two ways: it teaches people how to reduce waste and busts myths around waste reduction being expensive, time-consuming, and difficult. By educating people on the how-tos of zero-waste living and dispelling harmful mistruths, Bea gives people the information (and nudge) needed to maintain a greener life.
As a zero-waste newbie, I was first drawn to Bea's biggest flex: reducing her family's annual trash to a single pint. I love that her writing is sharply written, often packing a witty punch while never ceasing to educate and inspire.
While Bea's blog is a weekly read, I recommend her book Zero Waste Home: The Ultimate Guide to Simplifying Your Life by Reducing Your Waste, where she has condensed her wisdom on waste reduction and green living.
2. Conscious by Chloe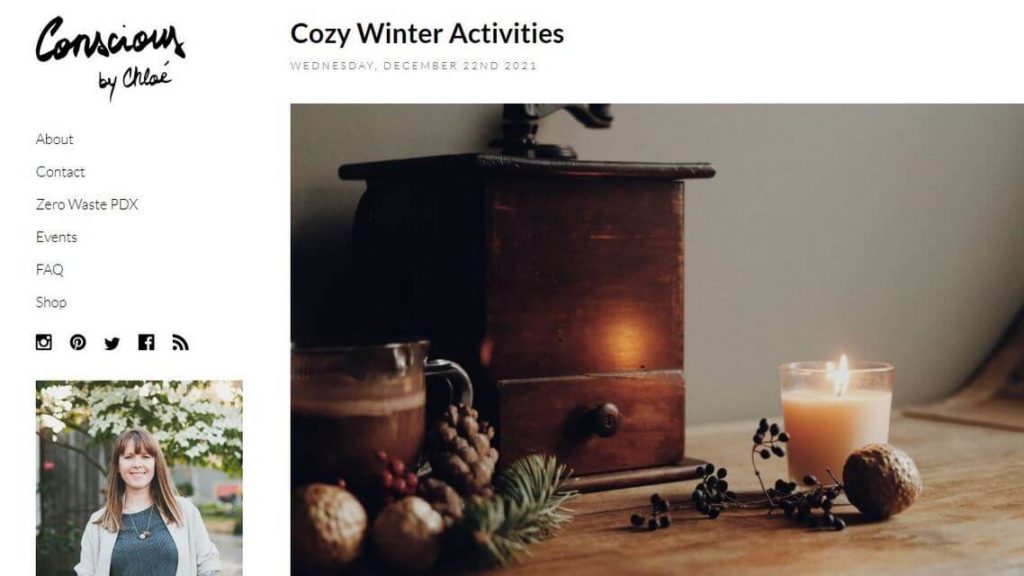 Chloé Lepeltier is a busy body. Not only has she written hundreds- and I mean hundreds- of articles on zero-waste living, but she covers an impressive range of topics. Her blog is very involved and personal - she fills readers in on what she's wearing, eating, reading, and currently obsessed with. Through her interests and finds I discover new resources, tips, and ethical brands (sharing is caring).
Conscious by Chloe is a buffet of articles, recipes, DIY tutorials, style, travel, and she even has a little shop where you can purchase her essentials - think someone with incredible (and ethical) style and taste putting together a wish list for you (heaven!).
I love her conversational, friendly tone and was drawn to her take on zero-waste fashion and styling- tips that have taught me how to dress ethically without skimping on style.
While we come for the wisdom imparted, we stay for the warm and wonderfully creative magic that is Chloe. She is an inspiration, and reading her writing feels like hearing from a friend.
3. Zero Waste Chef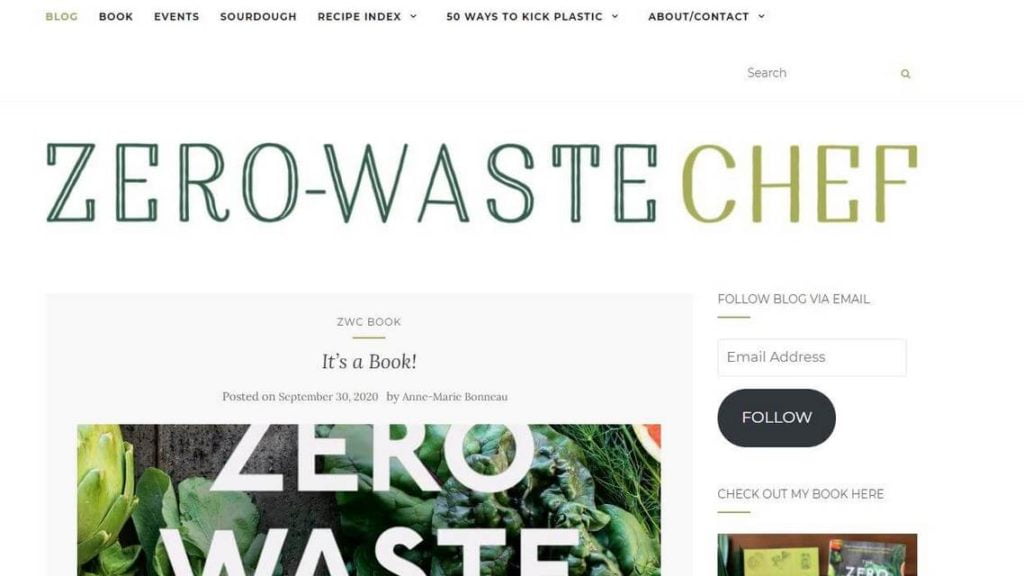 I am my happiest in the kitchen. I naturally gravitate to bloggers and resources that focus on the kitchen and cooking, which is why Zero Waste Chef is a personal favorite.
Founder and author Chef Anne-Marie Bonneau offers tips and tricks in the kitchen and beyond, but it's the Zero Waste Chef for the recipes that I ADORE. Anne-Marie proves that the "good" in "good cooking" can come from ethical, zero-waste culinary creations. I love that I can rely on her recipes to feed myself or impress guests and with no expense to the environment.
She also educates readers on how to create a zero-waste kitchen space and think about food from a new perspective. I have changed how I see meal planning and approach my meals with more creativity and consideration. Her resources on going plastic-free were life-changing and I'll use her tricks on zero-waste hosting forever.
4. Zero Waste Nest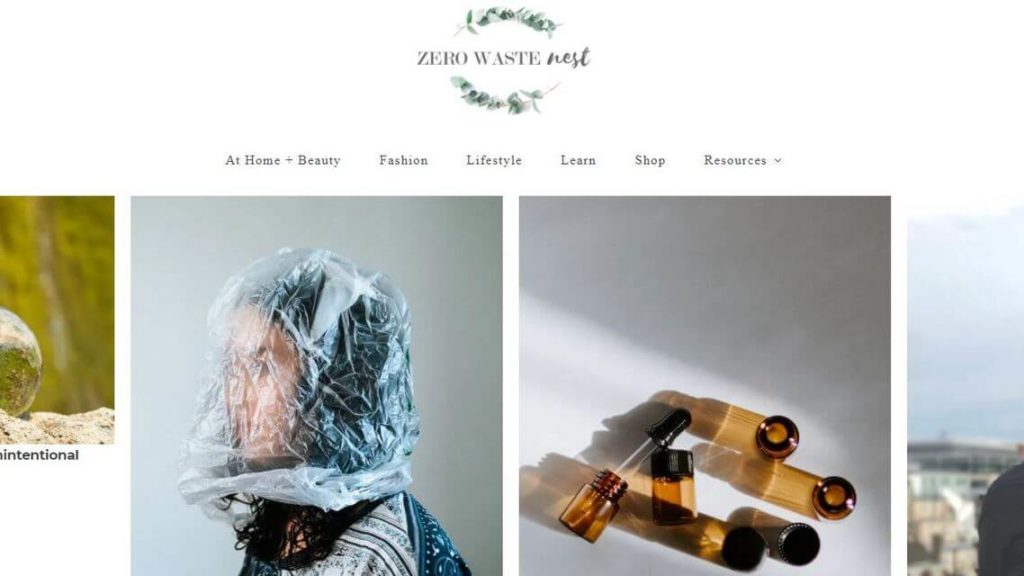 Morgane Beernaert is a realist. She showed me that "zero-waste" can be a clumsy way of putting things because "zero-waste," as a concept, is impossible. Managing your expectations can profoundly affect how we approach ethical living, and Morgane taught me to shift my attitude from the intimidating quest for perfect "zero-waste" to a more approachable "low waste" mindset.
if I had to use one word to describe Zero Waste Nest is would be: helpful. From her fun and whimsical guides on zero-waste fashion to her recommendations on podcasts, books, and documentaries, Morgane has become the little voice in my head helping me live life with a little more style, consideration, and mindfulness.
Zero Waste Nest has helped make my waste reduction a slow and steady adventure that I take day and day and with a playful curiosity.
5. Reusable Nation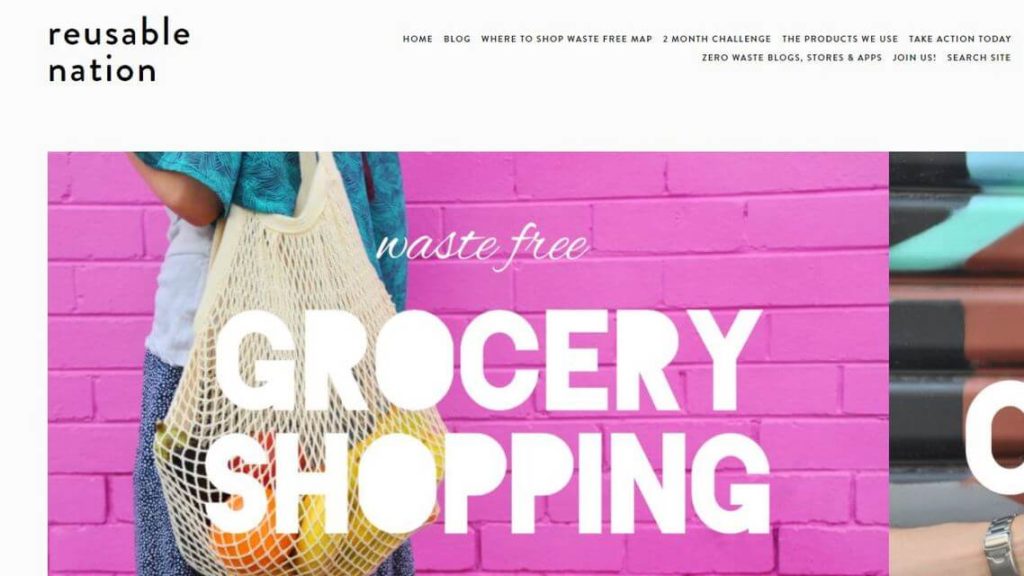 Reusable Nation is the lovechild of Dave and Vix, a dynamic duo hailing from South Africa. The pair come up a lot in the zero-waste community, and for good reason: their vibrant content consistently brightens days and inspires.
As a color fiend, I love their bright visual, and colorful content. The nature of social media these days is carefully curated, often soulless content but these two radiate authenticity- their love for nature and commitment to their zero-waste journey is palpable, transparent, and downright wholesome.
Their blog and online presence have garnered an impressive following thanks to the couple's informative articles, zero-waste shopping maps, waste-reducing challenges, and how-tos that add community and support to what often feels like a daunting, lonely journey. Their grocery shop breakdown in particular really helped me make more informed and conscientious choices when doing my weekly shop and have helped me save money and the planet.
6. Moral Fibres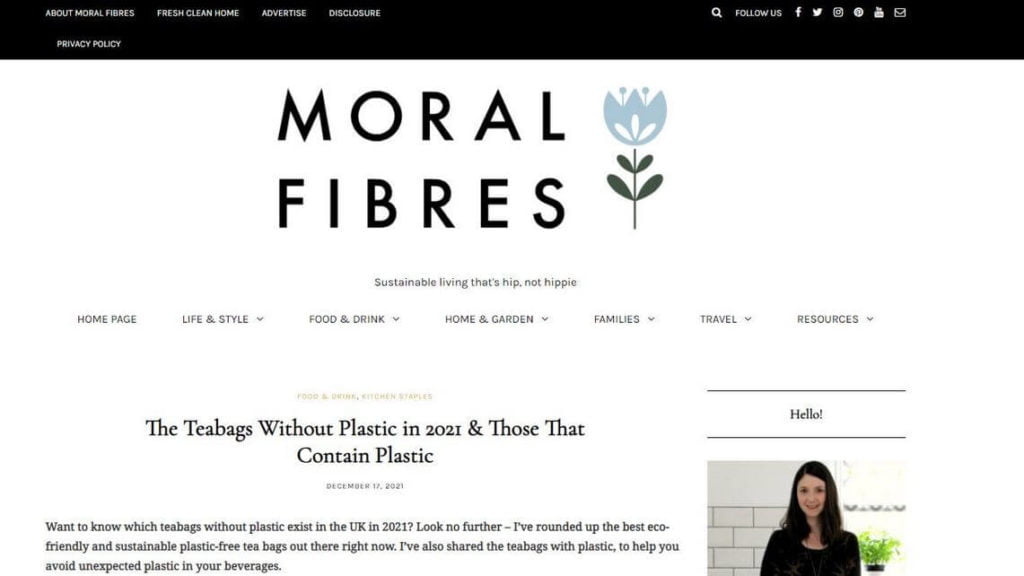 Wendy is the powerhouse behind Moral Fibres - a blog dedicated to a 'waste not, want not' attitude. There are thousands of tips and tricks regarding waste reduction and Wendy has truly tried them all. I consult her wisdom when I'm looking for an honest review on a technique or method I've yet to try.
As a sustainability expert, Wendy helps make the often daunting wealth of information surrounding zero-waste bite-sized, accessible, and even fun. She removes zero-waste living from being pigeon-holed and makes it a lifestyle shift available to people of all walks of life with a strong mantra of hip, not hippy!
While Wendy covers it all, I particularly love her tips on energy saving and gardening, especially her tips on how to grow things from the comforts of an apartment.
7. Trash is for Tossers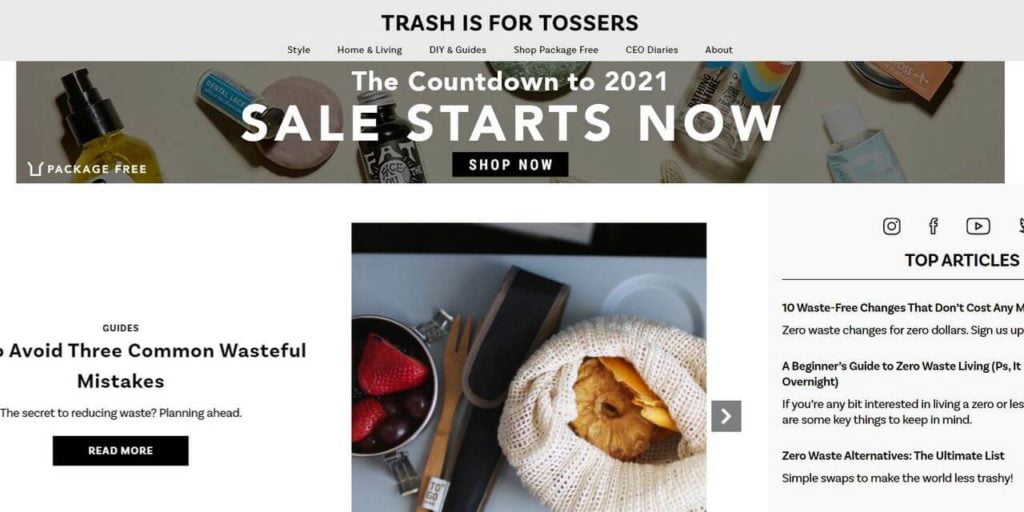 Inspired by previously mentioned Bea Johnson, Trash is for Tossers founder Lauren Singer, is a trash fundi. Her ever-stylish, ever-helpful blog and online presence have become a near-daily check-in for me as I find myself wanting to consult her DIY tutorials, guides, and styling tips.
As a New Yorker, she provides a unique perspective on how to live conscientiously within a small, urban environment (as many people do) and proves that big city living doesn't need to be a setback when choosing to live a greener life.
While her Ted X teen talk is an excellent introduction, I'd keep a keen eye on her Blog's DIY section for a weekly dose of inspiration.
8. Wasteland Rebel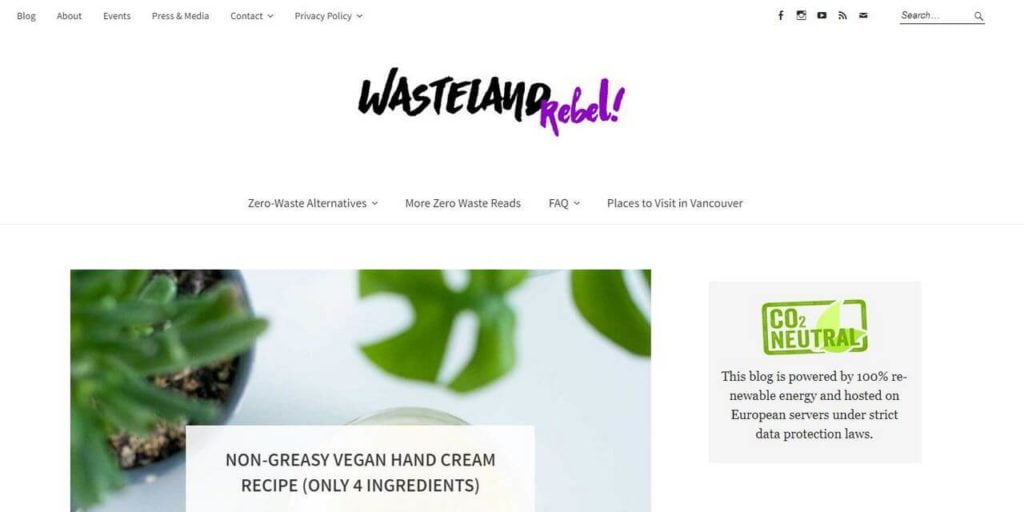 I like a no-fuss approach to zero-waste. It's very easy to throw a recycled ribbon on it and call it a day, but one's zero-waste journey is not always glamorous, and seeing someone's raw and transparent journey makes one's transition more approachable.
Shia and her husband Hanno speak my language with a minimalist approach to zero-waste - Wasteland Rebel. I love her simple (and oh so delicious) recipes and swap-out suggestions for a house and lifestyle more aligned with waste management and eco-friendly consumerism.
She doesn't cut corners with her research either, and her somewhat academic approach distills her sage wisdom into digestible information with actionable steps.
Shia quickly starts to feel like a friend and one you can trust to tell you the truth. I particularly love her interactive map on her favorite zero-waste blogs. I often consult her DIY recipes for house and beauty products for myself and gifts for loved ones.
9. Wild Minimalist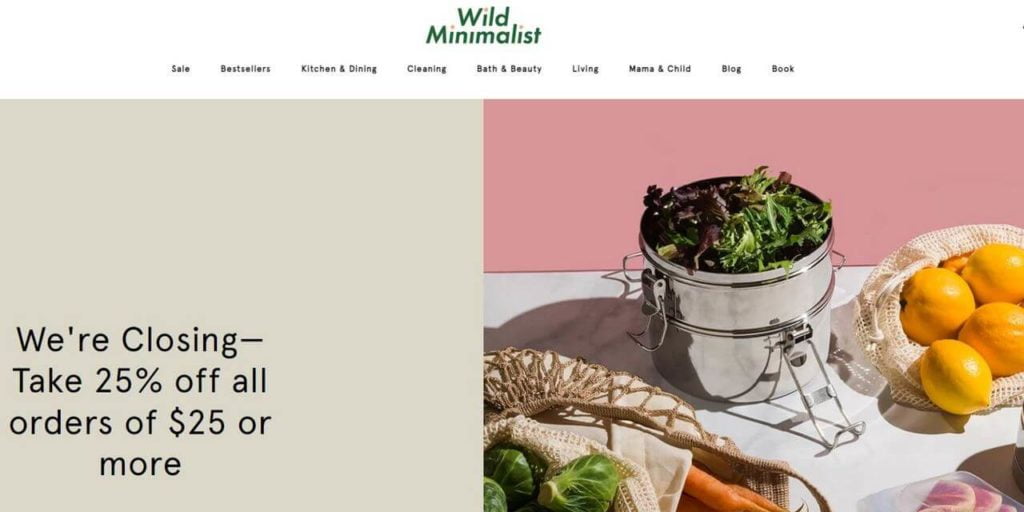 What started as a zero-waste story slowly snowballed into a zero-waste empire. Wild Minimalist is a power hub where one can learn, shop, and draw inspiration.
Founders Max and Lily quit their corporate jobs and started moving away from their dependence on single-use products and a lifestyle that wasn't aligned with their love for the environment. They found their journey into zero-waste living frustrating because online offerings were either limited or came wrapped in plastic, which ruined the purchase's purity and the decision to cut waste. Their solution? Build their own online store.
Their store doubles as a learning/reading resource that helps others live more conscientiously through informed consumerism and tips and tricks on zero-waste living.
UPDATE - days after writing this, they announced they were to shut down their online store.
10. Zero Waste Guy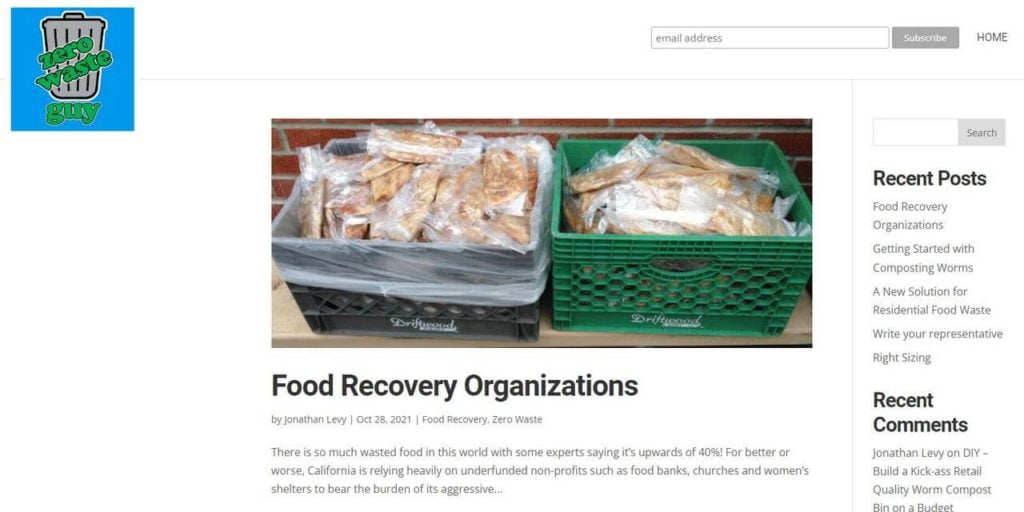 The Zero Waste Guy blog was a breath of fresh air in the zero-waste community. For starters, he's a suit-wearing man in a largely female community. Secondly, he offers an extremely pragmatic approach to waste reduction that doubles as a means of saving money too.
As a business consultant, founder Jonathan Levy has helped businesses adopt more sustainable business practices. Luckily for us, he makes this information accessible to the public too. His matter-of-fact approach is fuss-free and refreshing, not to mention helpful. His tips on zero-waste traveling were incredibly eye-opening and are frequently revisited when the travel bug strikes.
Jonathan not only diversifies the zero-waste community but does so while helping me think more strategically about how my lifestyle could help me save the planet AND my money.
11. Gippsland Unwrapped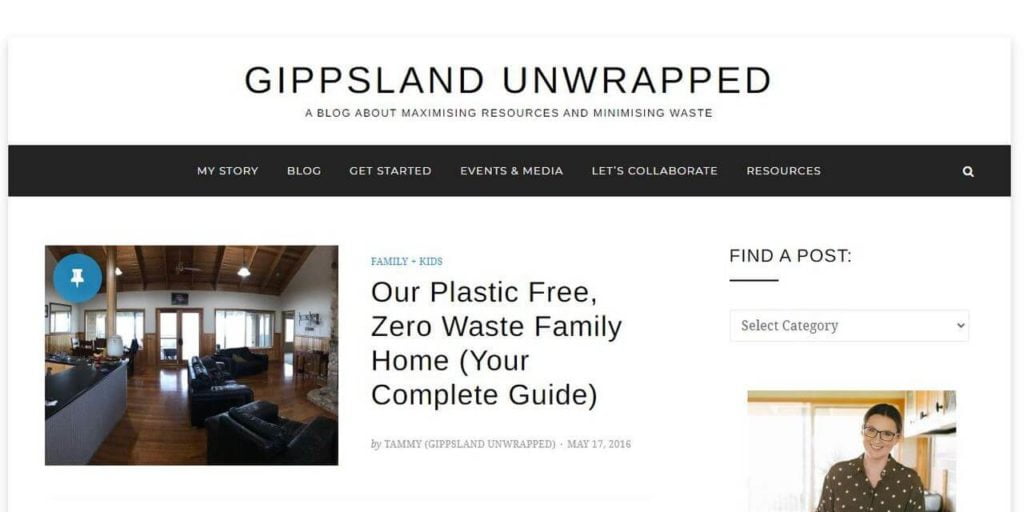 If Gippsland Unwrapped is anything, it's relatable. Writing to 'maximize resources and minimize waste, ' founder, mother, wife, and sustainability guru Tammy Logan writes about the fundamentals.
It's so easy to get caught up in the bells and whistles of zero-waste life but as a wife and mother of two, Tammy speaks about how a household is not always united in its zero-waste goals and how to prioritize the changes that matter.
Gippsland, Tammy's home in Australia, is rural with scattered communities and so Tammy's content offers a refreshing and informative take on how to do zero-waste outside of a bustling city- a much harder feat considering the scarcity of like-minded stores and resources.
Her content is wholesome, digestible, and wildly useful to anyone else trying to live more sustainably while raising a family.
12. Polly Barks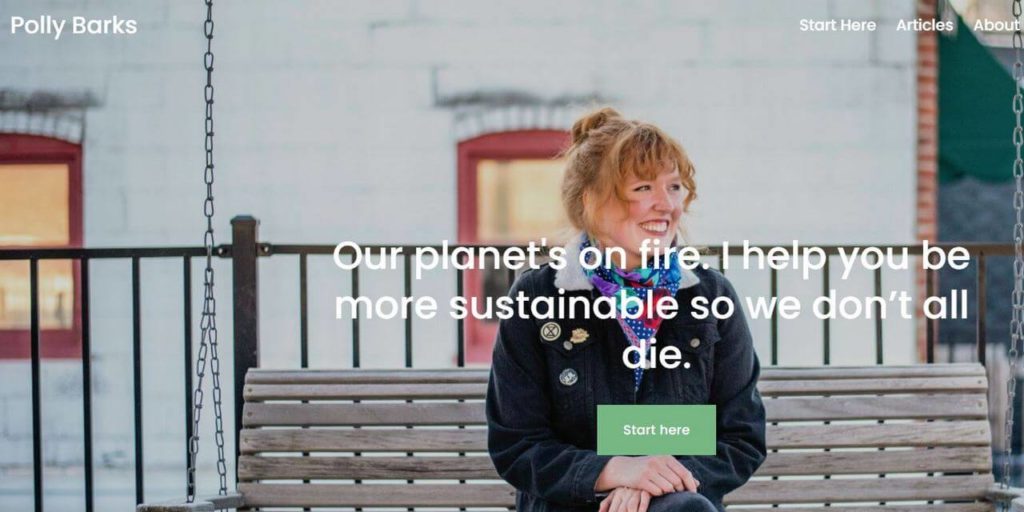 It's very rare for me to find a zero-waste blog truly groundbreaking. At least, not until I happily stumbled upon Polly Barks. Her articles are nothing short of profound, combining thoroughly researched opinions with an exploration of all things sustainable.
Polly pushes the envelope by daring to explore sustainability beyond the often-explored concepts of waste and boldly dives into issues of hidden waste, environmental racism, and the climate emergency. While her DIY tutorials and tips/tricks on sustainable living help align our lives with zero-waste goals, Polly's powerful and informative articles remind me of why I'm doing it all in the first place.
Thanks to her nuanced research and approach to sustainability, I feel like a more informed and interesting person. I highly recommend her blog to anyone looking to think outside of the typical zero-waste mindset and explore the bigger (and often uglier) picture.
13. Zero Waste Nerd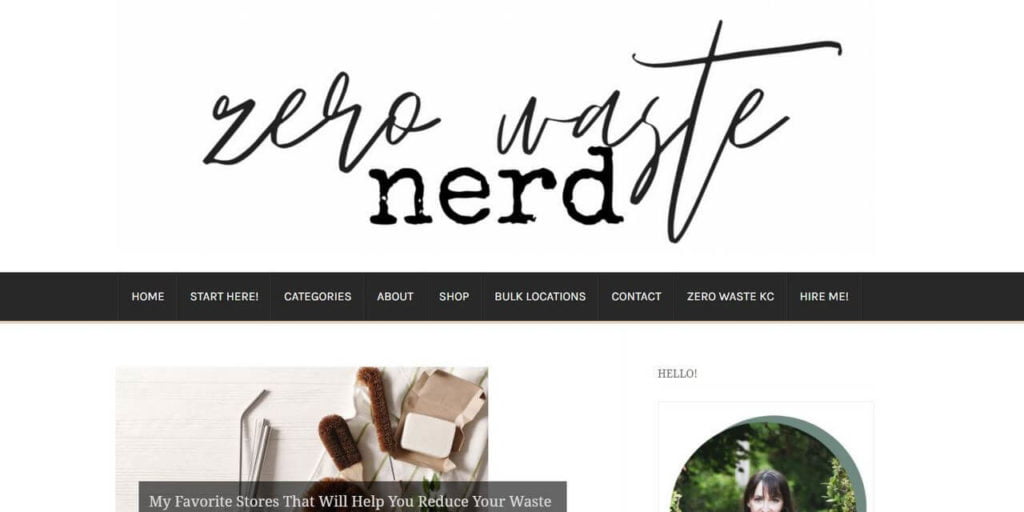 Zero Waste Nerd more than earns the "nerd" in her name with a deliciously structured, wisdom-packed blog. As an organization whizz, I love a blog that's approachable, easy to navigate, and fun to use.
Founder Megan has slowly upgraded and optimized every facet of her life to better align with her goal of zero-waste living. I fully encourage exploration and creativity in one's own path, but I'd be telling one fat fib if I said I didn't use Megan's journey as a template for my own - at least in the beginning.
From an intro on the basics to thorough breakdowns on baby/kids, household/kitchen/and DIY, Zero Waste Nerd is an action-inspiring, highly informative resource for reducing waste.
14. The Zero Waste Family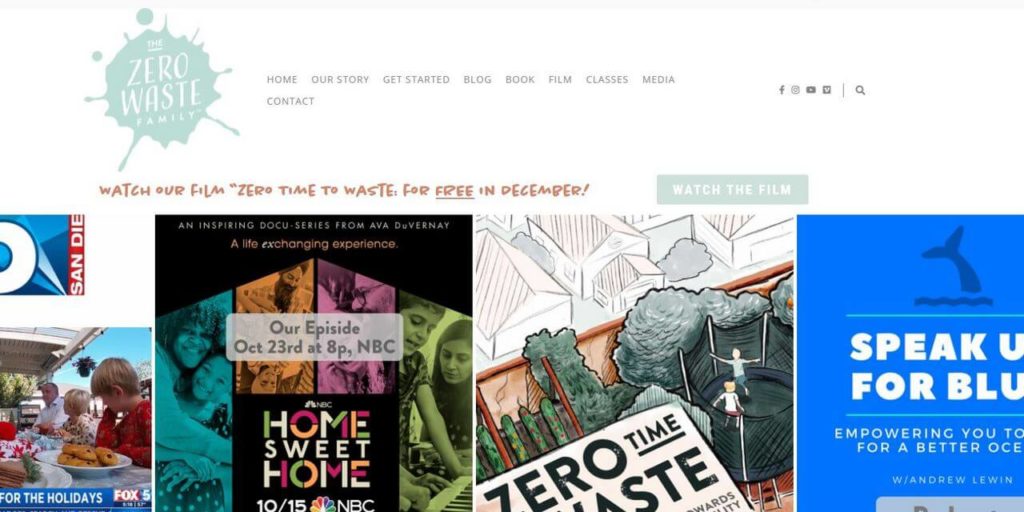 There's the Brady bunch, and then there's The Zero Waste Family- a wholesome family-run blog on how to align a household with a shared, zero-waste goal.
The family of five have a "figure it out as we go" approach to their zero-waste lifestyle. Now living on an urban homestead, they blog about growing your own food, raising children, minimalism, and ethical consumption, and it's hard not to fall in love with their story.
They have an excellent section on "getting started" that breaks down their approach to eating, consuming, and running a household and provides tips and tricks I still use today.
15. The Refab Diaries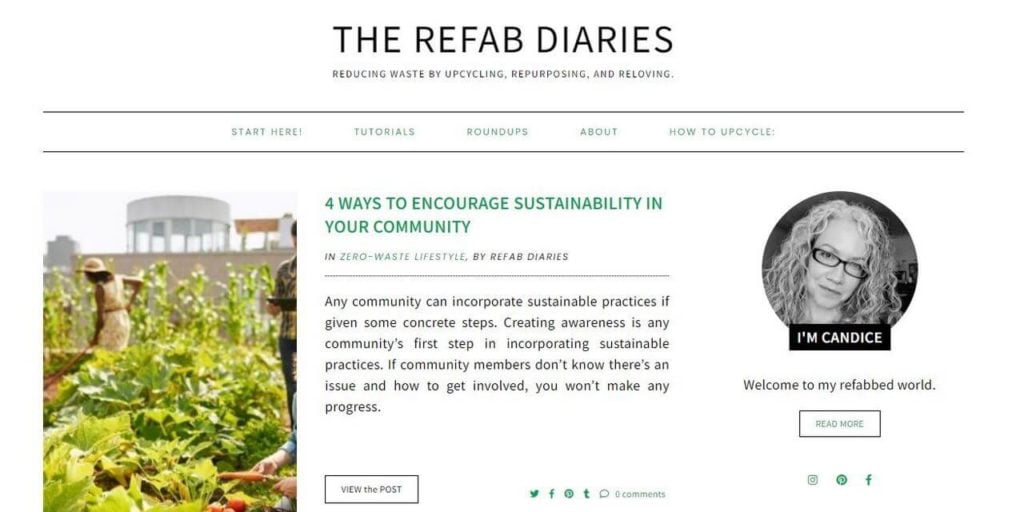 The Refab Diaries founder Candice believes in reusing, recycling, upcycling, and getting thrifty when reducing waste and maximizing resources.
I first fell in love with her new perspective on how waste can be beautiful and spent far too many hours making my way through her wonderful tutorials that turned trash into a wide array of things from gifts to planters and even tools. I loved that trash was no longer the enemy but an opportunity and a creative one.
If you're a creative soul with a thrifty heart, I do not doubt that The Refab Diaries will become the wormhole into which you happily disappear this festive season.
16. Zero Waste Teen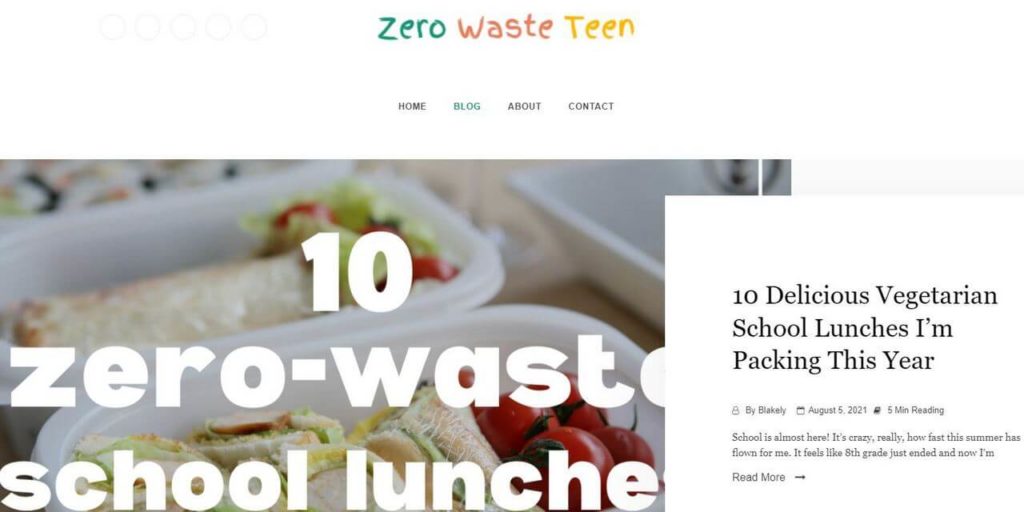 Zero Waste Teen's Blakey Bell is not only an offensively cool name but one that belongs to a 14-year-old eco-warrior. What started as a slow transition became a complete life overhaul only made more impressive because Blakey simultaneously juggles being in high school.
I love that our age difference doesn't put a stopper on what I can learn from Blakey- I love her tips on packing ethical lunches (especially since I'm always on the go) and her thought-provoking articles that hint at wisdom far beyond her 14 years.
I have shown Blakey to many of my friends who have kids, and they often read her stuff together - it makes zero-waste more approachable and inspiring to have it being taught by a blogger that kids can relate to.
17. Eco Local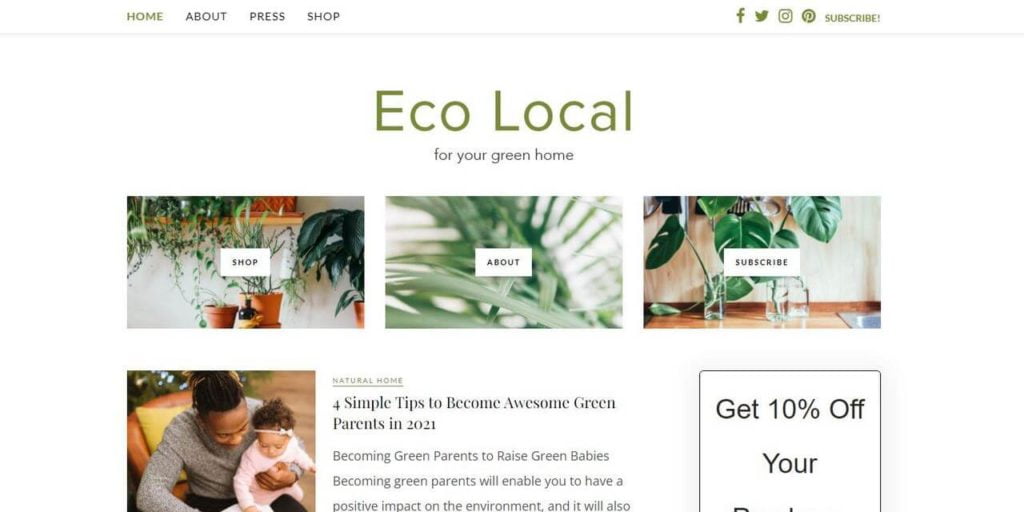 Oh, but I love me a pleasing aesthetic. Eco Local is not just a pretty (scratch that- BEAUTIFUL) face - it's one part epic zero-waste store and one part thoughtful blogging. I love that I can shop for eco-friendly home and body items while reading a fresh and exciting take on things like green parenting or how to think about climate change without spiraling into a code-red panic attack.
The store's inclusion of thought-provoking content speaks to its team's palpable and sincere commitment to enlightening its following for the betterment of our planet. Their blog is linked to their Etsy store, which has rave reviews too.
18. Going Zero Waste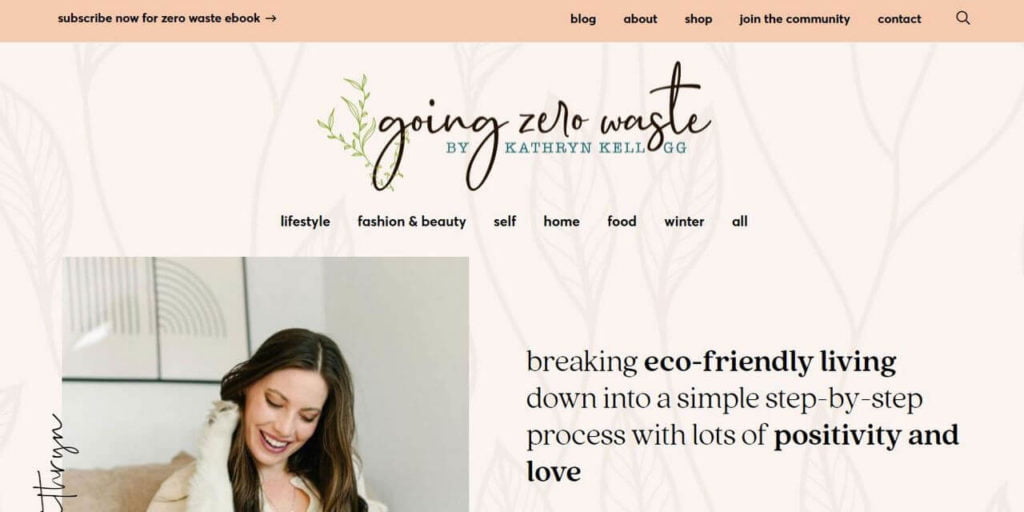 Everyone's zero-waste origin story is different. Mine was more of a slow-burning awakening inspired by the beautiful people in my life, but for blogger and Kathryn Kell, her journey centered around health.
What started as an exploration in creating her own cleaning and skincare products naturally (and passionately) grew into a blog and social media presence aimed at making a transition to a more eco-friendly lifestyle approachable while busting myths about said changes needing to be expensive or time-consuming.
I love Kathryn's content on ethical fashion and beauty products and ate up her more thought-provoking write-ups and how-tos that cover an impressive range of topics and facets of life.
Going Zero Waste is so extensive and informative that it's often the only page I recommend to zero-waste newbies.
19. One Small Step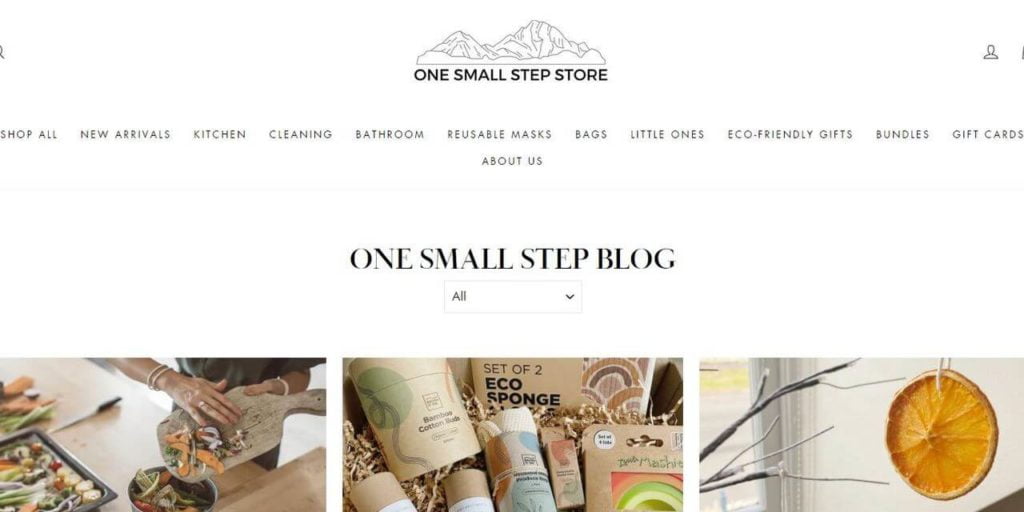 One Small Step is a blog/store powerhouse to provide information and green products for people at various stages of their zero-waste journeys. While I could write a small novella on the wonders of the One Small Step store, the feature that keeps me coming back for me is their blog feature.
Born from a desire to minimize waste and encourage others to live with the health and future of the planet in mind, One Small Step hits home with well-researched and sharply written articles that inspire thought and action. From DIY tutorials and recipes to thorough breakdowns on composting and consuming ethically throughout festive seasons, One Small Step has taught me plenty and does so with a relentless commitment to helping the planet by teaching others.
20. Brightly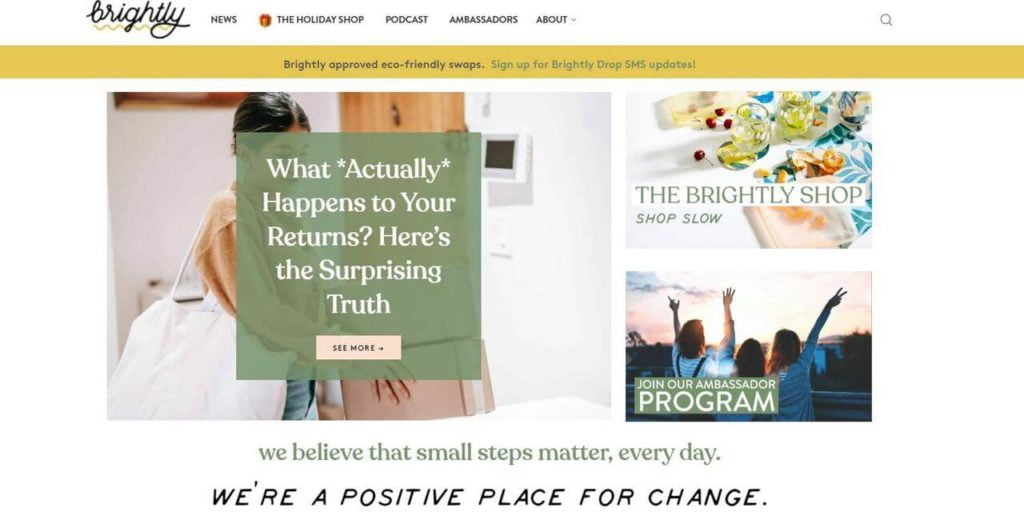 Brightly is, as its name suggests, a ray of sunshine! Their bold colors and excellent design make their content (a mix of articles and e-commerce) fun to digest.
Brightly recognizes that sustainable living is a journey and wishes to exist as an honest, accountable, and transparent hub for ethical consumerism in protest to what they call a "world of half-truths'.
I love that I can peruse the Brightly store/recommendations or have a gander at their articles while listening to their super helpful podcast that covers a range of tips, tricks, and inspiring stories that fortify my zero-waste know-how and keep me inspired.
Brightly is also inclusive and culturally sensitive, only including brands, content, and information that are aligned with their ethics and goals. I love their recent inclusion of remaining sustainable throughout the festive season (they truly changed my mind on Christmas trees) and even made me add a recipe or seven to my hosting arsenal.
21. My Plastic Free Life
Last but by no means least is a blog that means a lot to me - My Plastic Free Life. I met Beth Terry when I sold HankyBooks at the San Francisco green festival and she is so sweet and genuine - the real deal when it comes to proponents of a zero-waste lifestyle.
She started her blogger journey by keeping and counting the weight of all of her trash. She then investigated deeper to determine what it was made of. She posted articles about her journey to eliminate plastic waste, and I found them absolutely fundamental in how I now think of sustainability.
She has since published a book, "Plastic Free: How I kicked the plastic habit and how you can too," which is a must-have.
Conclusion
Whether you're a zero-waste newbie or an eco veteran, the internet is home to a wonderful community of like-minded bloggers who have the same hopes and goals as you: eliminating waste and saving the planet. As always, you'll need to "shop' around before you find the blogger/bloggers who best inspire (and even challenge) you, but once you've found your niche, it's hard to read anything else.
Zero Waste bloggers are the voice of reason when I feel overwhelmed, the tough-love nudge when I'm lazy, and a bottomless pit of inspiration when I'm feeling uninspired. I hope this list becomes a go-to source of comfort and learning for you, as it has so loyally been for me.
If you've enjoyed this article, check out our "Is Zero-Waste Achievable" piece, as well as our article on how to go zero-waste on a budget to learn how to save on your sustainability journey!
Happy reading!